From the Director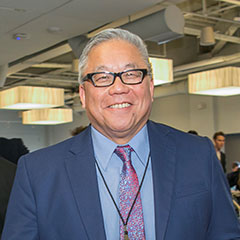 The Center for Real Estate and Finance recently concluded its busy "competition season" this fall with the introduction of the Cornell CUHK Regional Real Estate Competition, Asia on October 8th, which attracted a strong university presence, hosting 8 teams from China, Hong Kong, Korea, Taiwan and Indonesia. The top teams in our regional competitions in Asia, Australia and UK/Europe received an expense paid trip to New York City to compete in the 10th Annual Cornell International Real Estate Case Competition on November 13th. A total of 27 international universities competed for over $20,000 in prize money with University of Pennsylvania winning first place. Cornell University was represented by: Max Feng '19, Linda Cao '19, Amanda Cheng '19, Karen Ding '20, Mark Rittiboon '19 and Becca Wang '20. Many thanks to the industry judges and student teams that took the time to participate in all of our case competitions around the globe. It is a wonder to look back over the past 10 years and see how the competition has expanded and helped to cultivate so many students into successful real estate professionals. The competition is truly the foremost event of its kind.
The Cornell Real Estate Club ventured on two real estate treks this semester, focusing on networking and recruitment opportunities. The New York City trek took the students to PGIM Real Estate, Eastdil Secured, PJT Partners, and Goldman Sachs. Their trek to Chicago included visits to Hyatt Development, CBRE Hotels, AJ Capital Partners, HFF, Harrison Street Capital, Singerman Real Estate, Walton Street and LaSalle Investment Management.
I would also like to extend gratitude to the guest speakers that arrived on campus over the past few months to share their extensive industry knowledge with students via individualized club sessions, the classroom and full, school-wide information sessions. We filled their itineraries from morning to night with as many engagement opportunities as possible. Thank you to Richard Baker '88, Cheryl Boyer '87, David Israel '09, Jonathan Korr '09, Michael Nash and Jenny Wang '12.
We look forward to a busy spring filled with more exciting events.
Daniel Quan
Arthur Adler '78 & Karen Newman Adler '78 Director
Center for Real Estate and Finance