Cornell Real Estate Club Over 375 Members Strong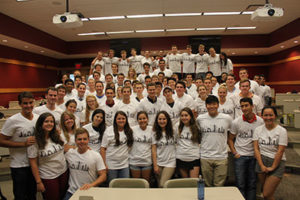 The Cornell Real Estate Club is a student organization for undergraduates who are pursuing a minor in real estate at Cornell University. The Cornell Real Estate Club complements the real estate curriculum by providing educational, professional, and networking opportunities. The club benefits new students who have had little exposure to the real estate industry and expands the breadth of knowledge for those students who already have professional experience.
Over the past two years, membership has tripled and the club's role in real estate education and professional development has expanded. Now, with over 375 members, the Cornell Real Estate Club can offer a wider range of activities for members, including career treks to Philadelphia and New York City, formal mentor program, industry exposure, and guest speakers. In the fall this year, the club's agenda is devoted exclusively to career preparation including a formal recruiting trip to New York City. In the spring, the agenda will dedicated to professional development.