Alan Kanders '87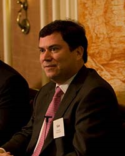 Alan Kanders '87
Principal
At Three Wall Capital, Alan Kanders '87 successfully completed six hospitality equity and debt investments totaling over $200 million in invested capital, on behalf of institutional and individual investors. These transactions include the 30-room Five Diamond/Five Star Mayflower Inn & Spa in Washington, CT, which TWC operates, and the 200-room Buckingham Hotel redevelopment at 57th Street and 6th Avenue, NY, NY.
From 1997 to 2008, Kanders was managing director in the Global Real Estate Group at Lehman Brothers, where he originated approximately $8 billion of hospitality equity and debt transactions in a principal capacity on behalf of Lehman Brothers. He has worked with leading hospitality sponsors, operators, and franchisors including Marriott International, InterContinental Hotels & Resorts, Starwood Hotels & Resorts, Hyatt Hotels & Resorts, Gencom Group, Hampshire Hotels & Resorts, and Highgate Holdings in various transaction types including acquisition, new construction, recapitalization, redevelopment, and brand development. In 2007, Kanders led the restructuring and sale of Le Méridien Hotels and Resorts, one of the largest-ever hotel restructurings to date.
Prior to joining Lehman Brothers in 1997, Kanders was vice president of development for Wingate Inns, a limited-service hotel chain, where he developed over 100 hotels. Before joining Wingate Inns in 1992, Kanders developed a gaming facility in Barbados and was a member of the team that sought to develop Hard Rock Cafes in the former Soviet Union. Prior to that, he was vice president of development for North America and the Caribbean for Rank Plc, a leading European gaming company.
Kanders graduated with a BS in hotel administration from the Cornell University School of Hotel Administration.