Navin Dimond, P '14 and '19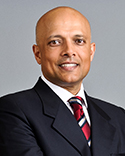 Navin Dimond, P '14 and '19
President and CEO
Navin Dimond is the founder of Stonebridge Companies, a privately owned hospitality firm headquartered in Englewood, Colorado. He serves as President and Chief Executive Officer, overseeing the company's development, acquisition and investment functions.
Since its inception in 1991, Mr. Dimond and Stonebridge have been responsible for the development of over 75 hotels encompassing a wide variety of brands in multiple markets. Today the company owns and operates 50 hotels across the United States, with approximately 7,500 rooms.
Navin is the recipient of the Award of Excellence from the American Asian Hotel Owners Association, the Hotelier of the Year Award from the Colorado Hotel and Lodging Association and the prestigious Hilton Hotels Multi-brand Developer of the Year Award. In 2007 Navin received the Ernst & Young Entrepreneur Of The Year® Award in the Real Estate and Hospitality category for the Rocky Mountain Region. Most recently, Navin and Stonebridge Companies received the coveted Marriott Partnership Circle Award, granted to Franchisees for their excellence and commitment to growth as well as dedication to their associates and guests.
As a result of his expertise and proven track record, Mr. Dimond has served in an advisory role for a wide variety of organizations. Currently, Navin serves on the Franchise Advisory Council for Hampton Inn Hotels by Hilton and Marriott's Residence Inn Advisory Board (TRIA Board). Navin has been involved with the Colorado Hotel and Lodging Association (CH&LA) for many years, serving as Chairman in 2003. In 2008 Navin was inducted into the CH&LA Hall of Fame. In addition Navin serves on the Washington State University College of Engineering and Architecture Executive Leadership Board, Cornell University's Dean's Advisory Board for the School of Hotel Administration and the Daniels College of Business Executive Advisory Board at the University of Denver.
Involvement in the local community is important to Navin. Currently he serves on the Board of Trustees for the University of Denver, the Denver Kent School and the Denver Center for the Performing Arts. In addition, Navin serves on the Foundation Board of the Metropolitan State College of Denver and is a Board Member of the Denver Metro Convention and Visitors Bureau (VISIT DENVER).
Mr. Dimond is a graduate of Washington State University where he earned his B.A. in Business Administration and his B.S. in Construction Management. He earned his MBA in Real Estate and Construction Management from the University of Denver.