Robert Buccini '90 (A&S)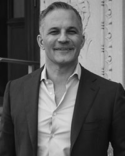 Robert Buccini '90 (A&S)
Co-President
Robert Buccini co-founded the Buccini/Pollin Group (BPG) in 1993. As co-president, he is responsible for the company's office, residential, retail, parking, sports, and entertainment development activities. Since 1993, Buccini has grown the company significantly—more than $4 billion in assets, including ownership of six million square feet of office and retail space, 6,500 hotel rooms, 2,000 apartments, and four live entertainment venues. Buccini is also co-founder and co-owner of Major League Soccer's Philadelphia Union.
Buccini is chairman of the Wilmington Housing Partnership (not-for-profit developer that is one of the region's leading home builders), member of the Board of Directors for the Vice President of the United States Residence Foundation, member of the Board of Trustees for Delaware State University, and trustee for Christiana Care Health System.
Prior to founding BPG, Buccini was employed by the New York City Economic Development Corporation. Buccini received his bachelor of arts degree from Cornell University.