Richard Baker '88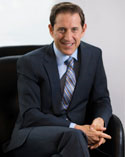 Richard Baker '88
Governor and CEO
Richard Baker has been the Company's Governor since July 2008. Mr. Baker is also the Executive Chairman and was previously the CEO of the Company. Mr. Baker owns NRDC, one of the largest privately owned real estate development companies in the United States, along with his father, Mr. Robert Baker. Mr. Baker is the Chairman of the Board of Directors for ROIC (Retail Opportunity Investments Corp.) which is a REIT listed on the NASDAQ Exchange that focuses on acquiring retail properties on the east and west coasts of the United States.
Mr. Baker is on the Board of Trustees at Cornell University and has served on or is serving on several of the University's councils and advisory boards including: the Baker Program in Real Estate Advisory Board, the School of Hotel Administration Advisory Council, the Center for Real Estate and Finance Advisory Board, and the Center for Real Estate and Finance Industry Fellows.
Mr. Baker is a graduate of Cornell University.