BOB ALTER '73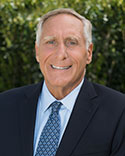 Bob Alter '73 is president of Seaview Investors, LLC, a real estate investment management company. He is also chairman emeritus and founder of Sunstone Hotel Investors, Inc. (SHO:NYSE) based in Aliso Viejo, California. He founded the company in 1985 as a hotel owner and management company and took it public in 1995.
Sunstone Hotel Investors, Inc. went public with ten hotels and a total enterprise value of $75 million with revenues of $30 million. During the period from 1995 to 1999, Alter led Sunstone to acquire 49 hotels, including the Kahler Hotel Company (21 hotels) in October of 1997 for $335 million. By 1998, Sunstone boasted revenues of $450 million and had a valuation of exactly $1 billion. In 1999, Alter joined with Westbrook Partners to execute a management-led leveraged buyout of Sunstone Hotel Investors, Inc. The transaction closed in November 1999 with a total valuation of over $900 million.
During the period from 1999 to 2004, Sunstone Hotel Investors, LLC (private company) continued to acquire, renovate, and reposition hotels. Over the course of this five-year period, it acted as a hotel-real-estate opportunity platform for the Westbrook Real Estate Funds. Also during this period, it acquired 44 hotels and disposed of 45 hotels, while upgrading and acquiring larger, full-service properties.
In October 2004, Sunstone and Alter took Sunstone Hotel Investors, LLC public as a hotel real estate investment trust (SHO:NYSE) with a total enterprise value of approximately $1.6 billion. Alter, as CEO, then led Sunstone on an acquisition spree during which it acquired an additional 17 hotels for over $1.7 billion, including such landmark assets as the Hyatt Regency Century Plaza, the Hilton Times Square, and the Renaissance Hotel in Washington, D.C. In 2007, the company had revenues of just over $1 billion with EBITDA of just over $285 million. In 2007, Alter named his replacement as CEO and retained the title of chairman of the board of directors.
During Alter's 22-year period as CEO, Sunstone acquired 125 hotel properties with over 20,000 guest rooms and led the disposition of 80 hotels. Alter oversaw approximately $1 billion of renovations and brand conversions and built seven ground-up hotels, including the JW Marriott Cherry Creek, among others.
The company's hotels are operated under nationally recognized brands such as Marriott, Hyatt, Hilton, and Fairmont, both under management contracts and franchise operated. Sunstone Hotel Investors has received numerous awards from the brands including Developer of the Year from Marriott International in 1998.
Alter founded and was a director of Buy Efficient, LLC, now solely owned by Sunstone Hotel Investors following a buyout of its joint venture ownership with Strategic Hotels & Resorts. Buy Efficient is an Internet-based purchasing management platform with over 900 participating hotels and senior living properties throughout the United States and Canada.
Alter has received entrepreneurial awards from Ernst & Young as Entrepreneur of the Year in 1998, the Orange County Business Journal in 2006, and the Leland C. and Mary M. Pillsbury Institute for Hospitality Entrepreneurship at Cornell University in 2008. These awards are designed to recognize dynamic individuals who exemplify the American entrepreneurial spirit.
In the fall of 2009, at the request of Dean Michael Johnson, Alter served as an adjunct member of the faculty at the School of Hotel Administration at Cornell University. During the semester, he taught Topics in Hotel Asset Management (HA 5522) and Independent Study for Hotel Students (HA 4499). He also guest-lectured in some 24 different courses for a number of the professors at the school.
Alter has been an owner of hotels since 1976 when he struck out on his own at age 25 and used his savings to purchase a 28-room hotel in Steamboat Springs, CO.
Alter served as president of IAHI, the franchise owners association for Intercontinental Hotels Group; he also served on the board of directors of MINA, the association of Marriott franchise owners and operators, and served as chairman of the Governmental Affairs Committee for the American Hotel & Lodging Association from 2007 to 2009. He has served as chairman of the AH&LA HotelPAC.
Alter serves on the board of advisors for Quest Hospitality Ventures, LLC, a venture capital fund for hospitality industry start-up companies. He is a member of the board of directors of Westcoast University, a private, proprietary, nonsectarian, coeducational institution.
Alter also serves as a board member of the Chancellor's Hospitality Industry Advisory Board for the California State University, was a member of the Cornell University Council from 1999 to 2003, and was a Dean's Distinguished Lecturer at the School of Hotel Administration in 2001. He is currently serving on the Cornell Peter and Stephanie Nolan School of Hotel Administration's Dean's Advisory Board.
He has served as a director of the Boys and Girls Club of South Orange County and is active in many facets of the Orange County United Way, including the Tocqueville Society.
Alter is a graduate of the Nolan School.
Alter and his wife, Joni, reside in Newport Coast, California, and collectively have four grown children.