Kevin F. Hallock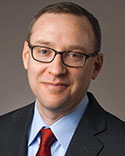 Kevin F. Hallock
Kenneth F. Kahn '69 Dean, Joseph R. Rich '80 Professor of Economics and Human Resource Studies, Director of the Institute for Compensation Studies
Kevin F. Hallock is the Kenneth F. Kahn '69 Dean, the Joseph R. Rich '80 Professor of Economics and Human Resource Studies, and the director of the Institute for Compensation Studies in the ILR School at Cornell University. Previous Cornell positions include chair of the University Financial Policy Committee and the Don​ald C. Opatrny '74 Chair of the university-wide Department of Economics.
Hallock is also a research associate at the National Bureau of Economic Research. In 2013, he was elected a fellow of the National Academy of Human Resources.
His current research is focused on labor markets, executive compensation, and the plan design and mix of employee compensation. His most recent book, Pay, was published by Cambridge University Press in 2012 and received the Princeton University Richard A. Lester Prize.
Hallock's work has covered a variety of topics including executive compensation, compensation design, discrimination, compensation of persons with disabilities, strikes, the gender gap, job loss, the link between labor and financial markets, the valuation of employee stock options, compensation of leaders of for-profits, nonprofits, and labor unions, retirement, and quantile regression.
He earned a BA in economics, summa cum laude, from the University of Massachusetts at Amherst in 1991, an MA in economics from Princeton University in 1993, and a PhD in economics from Princeton University in 1995.