Eduardo M. Peñalver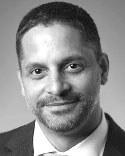 Eduardo M. Peñalver
Allan R. Tessler Dean and Professor of Law
Eduardo M. Peñalver is the Allan R. Tessler Dean and professor of law at Cornell Law School. He is the sixteenth dean of the law school, a post he has held since July 2014.
Previously, Peñalver served as the John P. Wilson Professor of Law at the University of Chicago Law School.
Peñalver received his BA from Cornell University and his law degree from Yale Law School. Between college and law school, he studied philosophy and theology as a Rhodes Scholar at Oriel College, Oxford.
Upon completing law school, Peñalver clerked for Judge Guido Calabresi of the United States Court of Appeals for the Second Circuit and at the Supreme Court for Justice John Paul Stevens.
Peñalver's scholarship focuses on property and land use, as well as law and religion. His work explores the way in which the law mediates the interests of individuals and communities. His book, Property Outlaws (co-authored with Sonia Katyal), explores the vital role of disobedience within the evolution of property law. His most recent book, An Introduction to Property Theory (co-authored with Gregory Alexander), was published in 2011.