Boca Roundtable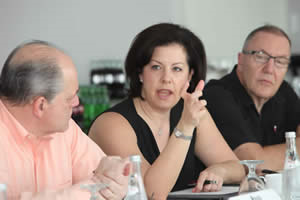 On February 21st CIHLER held its 2nd annual labor relations roundtable. Professor David Sherwyn, the John and Melissa Ceriale Professor of Hospitality Human Resources and CIHLER Academic Director, who led the roundtable, said that it was incredible to have industry "competitors" sitting in one room, agreeing and disagreeing in a collaborative and intellectual way.
The participants discussed the effect of the Supreme Court's failure to rule on card-check neutrality, the circumstances surrounding the union election at the Volkswagen plant in Tennessee, the effect of new minimum- and living-wage laws, and the Hilton contract one year later.
The Supreme Court's decision to not rule on card-check neutrality puts employers in a difficult position. On the one hand, it is the preferred method for organizing for Unite Here (the largest union in the hospitality industry), is a part of numerous contracts throughout the country, and has been held lawful by the National Labor Relations Board, as well as at least two circuit courts. On the other hand, an opinion by the 11th Circuit states that these agreements could be unlawful under certain circumstances. The penalties for violations include jail time.
The outcome of the Volkswagen vote represented what could be a watershed for union elections and an interesting legal issue. Prior to the election, Senator Bob Croker (R-TN) stated that he was "assured that should the workers vote against the UAW, Volkswagen will announce in the coming weeks that it will manufacture its new midsize SUV here in Chattanooga." Volkswagen, however, stated that that there was "no connection" between the unionization and the decision on where to make the SUV. The participants discussed whether politicians getting involved in union elections could be a "game changer" in union campaigns. Legally, the question was whether the National Labor Relations Board could or would overturn an election based on such comments.
With regard to new minimum wage and living wage standards, the participants discussed the effect of these on unionization and on tipped employees. Would unions, as they can, negotiate lower wages? Were unions supporting a political agenda that would benefit employees, but hurt organized labor? Would high hourly wages for tipped and non-tipped employees lead to innovations that reduced labor or change the business models of certain hotel segments ?
The "Hilton Contract" bundles health insurance and wages into one compensation package, gets rid of the so-called "most favored nation" clause, and allows the parties to negotiate work rules throughout the life of the contract. The sentiment of the participants was that after an initial negative reaction, most are in favor of the contract.
The Roundtable featured an outstanding group of participants:
John Ceriale, President, Prospect Advisors
Paul Ades, Senior Vice President – Labor Relations, Hilton
Debbie Brown, Vice President of Human Resources – The Americas, Four Seasons Hotels
Laura FitzRandolph, Senior Vice President, Human Resources and Assistant General Counsel, Interstate Hotels and Resorts
George Greene, Vice President, Labor Relations, Starwood Hotels and Resorts
Rick Hurd, Associate Dean for External Relations and Professor of Industrial and Labor Relations and Associate Director of CIHLER, ILR School, Cornell University
Kenneth Kahn, President, LRP Publications
Harry Katz, Kenneth F. Kahn Dean and Jack Sheinkman Professor, ILR School, Cornell University
Jeffery Kurzweil, Partner, Venable LLP
Nancy Lee, Senior Vice President and Deputy General Counsel, Marriott International, Inc.
Robert Rubenstein, General Counsel and Senior Vice President, LXR Luxury Resorts
Russ Melaragni, Vice President, Employee & Labor Relations, Hyatt Corporation
Alan Momeyer, Vice President, Human Resources, Loews Corporation
Frank Muscolina, Vice President Corporate Labor Relations, Caesars Entertainment
Joy Rothschild, Chief Human Resources Officer, Omni Hotels & Resorts
Robert Schiller, Executive Vice Chairman, Black Diamond, Inc.