Robert Mellwig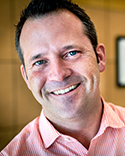 Robert Mellwig
SPHR Senior Vice President, Really Cool People (HR)
Robert Mellwig is senior vice president, really cool people (human resources) for Denver-based CoralTree Hospitality Group which is owned by Lowe Enterprises, a multi-billion-dollar real estate company based on Brentwood, CA. Robert joined the Destination Hotels & Resorts in March 2004 as director of recruitment and organizational development, and was promoted to vice president, human resources in 2006. He held that position until January 2009, when he accepted responsibility for the entirety of the HR function for all hospitality and non-hospitality related businesses.
Robert previously held corporate staffing responsibility at the home office with Starwood Hotels & Resorts and, before that, field HR responsibility within the W Hotel group. Robert's HR career began with Hilton Hotels Corporation where he held various HR and training posts in the Southern California resorts and AAA Five Diamond Hilton at Short Hills in New Jersey.
Robert has been an active member of Society of Human Resources Management (SHRM) since 1997 and has held his SPHR credential since 1999. He holds a B.S. in hospitality management from Johnson & Wales University in Providence, Rhode Island. Robert recently was a speaker at the National SHRM meeting in 2011 and is featured on upcoming SHRM videos on "We Know Next," a SHRM public relations initiative. An annual speaker on the Cornell University Hospitality Executive Roundtable and speaker at the HR in Hospitality Conference. Robert has been published in HR Magazine and was featured in at the Best Practice Institute in January 2012.