More Than 115 Guests Gather to Honor Skip Sack '61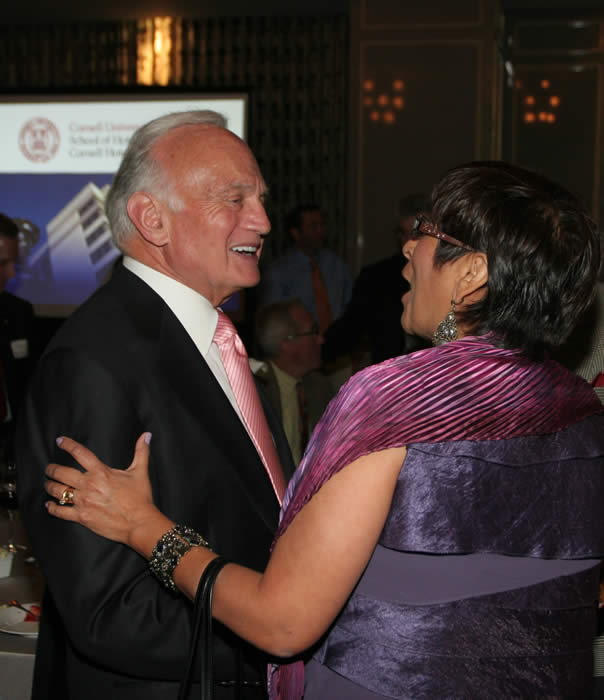 Balmy breezes were blowing on April 30 when more than 115 SHA alumni and friends gathered at the Viceroy Miami hotel to honor Burton M. "Skip" Sack '61 as the Cornell Hotel Society Southeast Regional Hotelie of the Year. The CHS South Florida chapter hosted the successful event.
Among the many speakers who paid tribute to Sack were his close friends Bob Samuels '60, Jay Messer, and Tom Pedulla '60. Pedulla said, "Skip exemplifies what a Hotelie should be. The world would be a better place if we had more Skip Sacks because Skip would prefer to do things for people and causes rather than boast about the things he does for them."
At the event, Jon Denison, associate dean for external affairs, thanked Sack for his ongoing contributions to the School of Hotel Administration, which include the establishment of the Burton M. Sack '61 Professorship in Food and Beverage Management, his service on the Dean's Advisory Board, and his championing of a restaurant-focused edition of the Dean's Leadership Series. The school also used the occasion to recognize Sack's place on the Leadership Circle Wall of Honor, a tribute reserved for alumni and friends whose have shown extraordinary generosity to the School of Hotel Administration.
"The CHS South Florida Chapter Board was honored to recognize Skip Sack for his contributions to our school, the community, and the food & beverage industry," said William Balinbin '04, CHS South Florida President. "It took a little wrestling but we were able to convince Skip, eternally humble, to accept this award."
Brian Connors '97, the evening's master of ceremonies, also conducted a lively auction that raised money for the South Florida chapter scholarship fund.