Eduardo Rosario '16: Where he deserves to be
As a senior in high school, Eduardo Rosario '16 knew that he wanted to go to a top university. He also knew that he had smarts and the drive to get there. After doing some research on his own, he went to see his guidance counselor with a list of his dream schools in hand. Cornell was on it.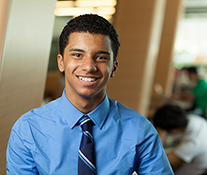 "Those schools never accept our students," his guidance counselor told him.
She wasn't being unsupportive, as Eduardo is quick to explain, she was being honest. "My school wasn't as demanding as it could have been. If kids went to college at all, it was a community college or state school."
Eduardo grew up in Lawrence, Massachusetts, about 25 miles north of Boston. The public school system where he was a student had been struggling for years with high dropout rates and standardized test scores among the lowest in the state. During his senior year, the state government finally took over the schools.
"I worried that my college applications would look worse because of everything that was happening at the high school," he says. "I knew I had to do something extra to boost my application and show that I could do well in a more challenging environment."
So Eduardo took his future into his own hands by attending summer programs at Harvard and at Phillips Academy, the prestigious private high school in Andover, Mass., where he took courses in statistics and financial accounting.
"I always liked business, but I knew I didn't want to sit in a cubicle all day. I was looking for something more personal and more active, so I decided to go to school for hotel administration. Then I asked myself 'What's the best program out there?' And it was clearly the Cornell School of Hotel Administration."
Eduardo knew that getting to Cornell would be a challenge. On top of the words of caution from his guidance counselor, Eduardo wasn't sure if he was ready to be so far away from home. Through high school, he often worked 30 hours a week at fast-food restaurants to help support his mom, who had moved to the United States from the Dominican Republic at age 16. She worked as a nurse's assistant when Eduardo was young, but her license had expired and her English wasn't strong enough to pass the licensing test again. Now she runs a small daycare out of her home to support Eduardo and his little brother.
"The financial-aid package that Cornell offered made all the difference," says Eduardo. "My education isn't such a strain on my family."
At Cornell Eduardo is as driven as ever, attending classes; working as a front desk agent at the Statler Hotel; participating in the Sabor Latino dance group and National Society of Minorities in Hospitality; fulfilling service hours for his Cornell Tradition Fellowship; and working toward his goal of becoming a hotel developer. He's even gone back to his high school to help advise juniors and seniors on the college-application process and financial aid. As the first graduate in the history of his high school to attend Cornell, he's also serving as an inspiration to current students.
"There is no way I could be at Cornell without financial aid. Slowly, but surely, I'm making it to where I want to be," Eduardo says modestly. In truth, he's making it to where he deserves to be.
To help students like Eduardo reach their full potential, please make a gift in support of SHA scholarships.