In Memoriam: Christine Natsios '85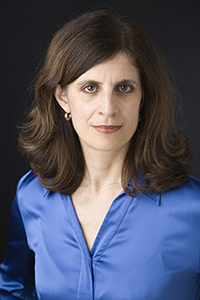 Dear Friends,
It is my great sorrow to bring you the news that Christine Natsios '85, for many years our director of alumni affairs and secretary of the Cornell Hotel Society, passed away on February 16, 2013. Christine was diagnosed with cancer last fall. She faced her illness and treatment with tremendous dignity, strength, and spirit, supported by her loving family and her devoted partner, Chuck Lilly. We have missed Christine's presence in the school these past few months, and we are devastated to know that she will not be returning to us.
The daughter of a U.S. Foreign Service officer attached to various embassies, Christine was born in Athens, Greece and grew up in South America, Southeast Asia, and Europe, learning to speak modern Greek, Spanish, and French in addition to English. After graduating from the School of Hotel Administration, she worked in food and beverage sales and marketing, event planning, and public relations, including as general manager of the Columbus (Ohio) Athenaeum, a special events conference center; director of catering for the Westin Hotel in Columbus; and director of special events for the Columbus Museum of Art. She returned to the school as director of alumni affairs in June 2005.
Under Christine's leadership, the Cornell Hotel Society grew to incorporate as many as 60 chapters worldwide. She traveled extensively and worked tirelessly and diplomatically as an alumna and a representative of the school to support chapter leadership and help society members plan their events. Christine met often with students to coach them in their career choices. Her dedication to the position will be missed.
In addition to Chuck, Christine is survived by her mother, Mitzi Peterson Natsios; her son, Brian J. Barton; her granddaughter, Kayla S. Barton; sisters and brothers-in-law Deborah A. Natsios and John L. Young, Valerie S. Natsios-Mundell and Robert A. Mundell, and Alexandra R. Natsios and Joel D. Wall; and other family members. She was predeceased by her father, Nicholas Andrew Natsios. Her full obituary is available here.
In lieu of flowers, Christine's family has asked that any contributions in her name be directed to the Cornell Hotel Society Scholarship Fund, with checks made payable to Cornell University and mailed to Cornell University, Box 223623, Pittsburgh, PA 15251-2623, or on-line at https://sha.cornell.edu/alumni/giving/make-a-gift/
Christine was a vibrant, devoted, and talented member of our Hotelie community and a delight to know. A great many of you cherished her as a friend, colleague, classmate, or fellow alumna, and I know that you now join her loved ones and us in mourning deeply her untimely loss. I extend to all of you my heartfelt condolences.
Sincerely,
Michael D. Johnson
Michael D. Johnson | Dean and E.M. Statler Professor
Cornell University | School of Hotel Administration
146 Statler Hall | Ithaca, NY 14853
p. 607-255-5106 f. 607-255-8570
https://sha.cornell.edu/