From the Director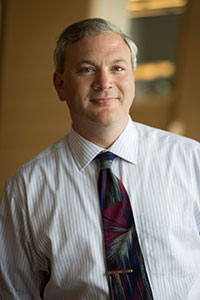 CHR's Advisory Board and members play a crucial role in supporting the School of Hotel Administration's (SHA) research mission. The Board members do this in many ways: their financial support, their time, the data they provide, their participation in research projects and involvement in roundtables, by writing and reviewing CHR Reports, developing cutting edge research ideas, and aiding in the development of SHA faculty. In this message I want to explain how we are building on this important contribution that our Advisory Board members make to the center.
First, I want to particularly acknowledge the financial support given by CHR members, which is of course absolutely critical. Research is, quite frankly, expensive. And the generous support of our members helps ensure that SHA can continue to engage in industry-relevant research, across a wide range of fields, targeting both top-tier academic and industry-directed publications. But our members are helping in an additional effort that I believe will forever help shape the direction of SHA and the future of hospitality research. That is the CHR Mentor program.
I introduced the CHR Mentor program this year to connect CHR members with new SHA faculty to help them become more engaged in the hospitality industry. This year, 12 CHR members participated, and several more agreed to participate next year. The active engagement between the industry experts who form our board and the new faculty who will help bring a new lens to industry research is a crucial way that the SHA will ensure its maintained focus on the hospitality industry.
CHR mentors have also become increasingly engaged in research with our faculty. Several members have helped faculty by providing research sites and data to assist with ongoing research projects. This involvement has also helped faculty by providing insights and directions to further ensure the relevance to the specific hospitality issues that need to be addressed. CHR members have also worked with faculty to help students with their independent studies, again providing mentoring, data collection opportunities, and resources to build stronger connections between SHA's research focus and the industry needs.
As Director of the CHR, I am continuously looking for new ways to engage our members, foster research on key hospitality issues, develop SHA faculty, and facilitate the creation and dissemination of research for the hospitality industry. I am hoping over the next few years to introduce new mentoring programs aimed at more senior faculty, new data sharing opportunities between members and faculty, and new resources to facilitate the communication of timely research topics between members, faculty, and students. The CHR is continually evolving and, quite simply, trying to do more. But we could do none of this without the support, and more importantly the engagement, of our CHR Members. I want to thank all our corporate members for the valuable support they provide. And I hope more organizations will see the way CHR Members engage with SHA as a critical way to support SHA to help shape the future of the hospitality industry.
Michael C. Sturman
Director, Center for Hospitality Research