Lu Kong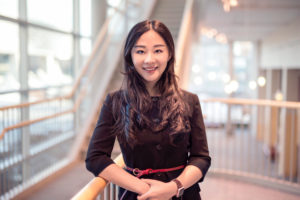 PhD Student, Service Operations
455 Statler Hall
Ithaca, NY 14853
lk422@cornell.edu
Research Interests
Service Operations, Empirical Research Methods, Service Innovation, Healthcare Management, the Sharing Economy
Teaching Interests
Operations Management, Data Analytics, Statistics, Quality Management, Quantitative Research Methods, Topics on Interface of Healthcare, Hospitality, and Service Design
Publications/Journal Articles
Rohit Verma, Lu Kong, Lin Zhen (2016). Operations Management in Hospitality. Routledge's POM Companion Book.
Towards a Shared Understanding of the Service Experience – A Hospitality Stakeholder Approach (Co-authored with Ceridwyn King, Enrique Murillo, Aviad Israeli, Michael Tew, Juan Madera, and Wei Wei). Published by Journal of Service Management (March 2019).
Usage and Impact of Information and Communication Technologies in Healthcare Delivery (Co-authored with Hessam Sadatsafavi and Rohit Verma). Second chapter of my dissertation work. Accepted by Service Science, an INFORMS (February 2019).
Working Papers
Lu Kong, Jie Zhang, Rohit Verma, and Aleda Roth. "Infusing Hospitality and Service Excellence in Healthcare".
Rohit Verma, Hessam Sadatsafavi, and Lu Kong. Technology, "Cost and Healthcare Policy – What Networkers Think?"
Academic Presentations Include:
"Who Wants to Share? – Understanding the Participants of the Sharing Economy." QUIS (International Research Symposium on Service Excellence in Management) 14th conference, 2015 and INFORMS (Institute for Operations Research and the Management Sciences) Annual Conference, 2015.
"Infusing Hospitality and Service Excellence in Healthcare." POMS (Production and Operations Management Society) annual conference, 2016, and DSI (Decision Sciences Institute) Annual Conference, 2016.
Teaching Assistant Experience
Making A Difference by Design, Summer 2018, School of Continuing Education and Summer Sessions, Cornell University
Quality Systems and Processes, Spring 2016, School of Hotel Administration, Cornell University
Operations Management, Summer 2016, School of Hotel Administration, Cornell University
Industry Experience
Marriott International, Palm Desert, California, June 2013 – June 2014
Education
MS, School of Hotel Administration, Cornell University, U.S.
BBA, Business School, Tianjin University of Finance and Economics, China