Gift Opportunities
Centers and Institutes
Center for Hospitality Research
The Center for Hospitality Research (CHR) mission is to advance hospitality thought leadership by publishing and disseminating impactful and actionable research, including reports, briefs, tools, and case studies that industry leaders can put in to practice today; facilitating the exchange of new ideas by bringing students, faculty, and industry professionals together at roundtables, panels, conferences, and other engaging events; and partnering with the other Centers and Institutes in the Cornell Peter and Stephanie Nolan School of Hotel Administration to maximize research, event, and networking collaborations. You can support CHR initiatives with an online gift.
Center for Real Estate and Finance
The Center for Real Estate and Finance (CREF), established in 2009, is the foremost clearinghouse for hospitality real estate and finance information. Defined by its intellectual capital, industry experience, and rigorous academics, the center is respected as a leader of real estate and finance. Built on a tradition of quality research in the hospitality industry and a growing real estate and finance faculty, the center is at the forefront of research in all areas of commercial real estate—from studying the behavior of real estate assets in investment portfolios to understanding real estate capital markets and science of hedging real estate risk. You can support CREF initiatives with an online gift.
Cornell Institute for Food and Beverage Management
The Cornell Institute for Food and Beverage Management (CIFBM) connects students, faculty, alumni, and industry partners across the restaurant, food service, and beverage management spaces. CIFBM is aligned with the Cornell Nolan School's focus on the hospitality industry, yet closely tied to the Business of Food interdisciplinary theme across the Cornell SC Johnson College of Business. You can support CIFBM initiatives with an online gift.
Cornell Institute for Healthy Futures
The Cornell Institute for Healthy Futures (CIHF) is a ground-breaking initiative, which is believed to be the first of its kind anywhere. It provides a unique trans-disciplinary platform for educating students, creating new knowledge through research, and exchanging information from the fields of hospitality, design, and health management/policy with a broad set of audiences. Through CIHF's many activities, students and faculty connect with top-level professionals and build lasting relationships with alumni and other industry leaders. As the intellectual home for research bridging the fields of hospitality, design thinking, and health management/policy at Cornell, the center offers a portal to cutting-edge ideas to help advance service excellence in healthcare, wellness, senior living, and related areas. Our students combine theory with hands-on learning to build a rich understanding of these fields. You can support CIHF initiatives with an online gift.
Cornell Center for Innovative Hospitality Labor and Employment Relations
The Cornell Center for Innovative Hospitality Labor and Employment Relations (CIHLER) was established in 2013 as a platform for students, employers, employees, unions, and their advocates who are involved in the hospitality industry and seek to educate, analyze, and improve labor and employment relations. To achieve this goal, the institute supports educational programs, sponsors and disseminates research, and holds conferences and roundtables dedicated to labor and employment relations, labor and employment law, human resource management, and leadership in the industry. You can support CIHLER initiatives with an online gift.
Leland C. and Mary M. Pillsbury Institute for Hospitality Entrepreneurship
The Pillsbury Institute for Hospitality Entrepreneurship (PIHE), which opened in 2006, teams students with seasoned faculty and accomplished entrepreneurs to help them develop the knowledge, skills, and practical experience necessary to pursue their entrepreneurial ambitions. The Pillsbury Institute is also a source of information on creating a hospitality business, managing a small and family-operated business, purchasing a franchise, developing a corporate venture, funding a new venture, and being an innovator. You can support PIHE initiatives with an online gift.
Naming Opportunities
Entrepreneurship professorship endowment: $3-5 million endowment
Entrepreneurship faculty renewal grant: $500,000 endowment or $100,000 per year
Discretionary Funds
Based on current needs of the school, the dean determines the use of discretionary funds to broadly support the Nolan School's educational mission. Examples of discretionary-fund use include support for student travel to Nolan School-endorsed conferences and competitions, additional faculty research funds, bringing visiting faculty and industry leaders to campus, seed money for emerging programs, organizing academic conferences, and financing other needs that may arise.
For information on how to give to an existing fund or to establish a new fund, contact Carla Ingrando, associate dean of alumni affairs and development, Cornell SC Johnson College of Business, at alumni-business@cornell.edu.
Cornell Annual Fund
No gift benefits the Nolan School as broadly as one made to the Annual Fund. Meeting the current, daily needs of the school, the fund helps us send students to industry conferences, recruit renowned faculty who are trained in research, and provide those faculty with the resources they need to conduct studies and turn out findings that are critical to the hospitality industry. In 2014-15, more than 1,400 individuals made Annual Fund gifts, for a total of $1.85 million in current-use cash. This amount, which is the equivalent of a yearly payout from a $46 million endowment, is a remarkable example of the cumulative power of even modest annual giving.
The Nolan School alumni are renowned as loyal alumni. By making a yearly gift, you can demonstrate that we have the highest level of alumni satisfaction and pride. Each year, requests are made of every alumnus/a of the university to support the Cornell Fund. We encourage you, as a Hotelie, to designate your Annual Fund gift to the Nolan School. No gift is too small!
Endowed Scholarships
Endowed scholarships help us maintain our policies of need-blind admissions and need-based financial aid, making it possible to admit students solely on the basis of their potential to succeed. These policies ensure that we have a student body that is intelligent, culturally and socioeconomically diverse, leadership-oriented, entrepreneurial, and—most importantly—passionate about the hospitality industry.
The school's scholarship endowments — a list that numbers more than 350 — provided a return of about $2.35 million this year, a very significant help but well short of our current financial aid budget of approximately $9 million. To meet this budget fully through investment payout would require more than $125 million in additional scholarship endowment. Every endowed scholarship eases this burden and frees up more funds for other areas of the school's operating budget.
Meek Scholars Fund
Contributing to the Professor Howard Bagnall Meek Scholars Fund is a wonderful way to honor the man whose vision helped found the Cornell Peter and Stephanie Nolan School of Hotel Administration. Every donation over $1,000 entitles the contributor to one plaque that will bear his or her name (or someone of the donor's choosing) and be placed on a seat in the Statler Auditorium.
Nestlé Library
Gifts, no matter what the amount, help support every facet of Nestlé Library—from enriching our holdings and expanding our resources, to preserving our collections and improving our services with advanced technology. Outright gifts and collection endowments provide the donor with naming opportunities for him or herself or to honor current or past Nolan School faculty members, fellow colleagues, or someone's memory. Endowments provide assurance that funding will be available in perpetuity to support the library's collections and programs.
Book plates in individual volumes acknowledge support. A specific journal title or electronic resource can also be endowed, with credit to the donor's name in the Cornell University online catalog.
eCommons
Corporate or individual sponsors are being sought to support the Nolan School's eCommons digital library, where researchers and industry professionals from all over the world download over 1,000 important works by Nolan School's scholars, our esteemed faculty, and other researchers each day. Over 1,200 papers in business, finance, real estate, and other hospitality-related fields are represented on the site. Its phenomenal level of usage shows the Nolan School's pre-eminence in its field and the reliance of researchers and professionals on the vital research done there. Please visit the site and contact the Nolan School's corporate relations team if you have any questions or interest in sponsoring this important aspect of the Nolan School's work.
Real Estate Databases
As real estate studies continue to grow in scope and popularity across the Cornell campus, access to industry databases is increasingly important. Students, faculty, and researchers rely on access to essential data to fuel coursework and research that is of value to the industry. These resources are seldom made available to universities and are very expensive when available. An endowment gift will ensure sustainable access to these databases, and continue to keep Cornell's real estate research, tools, and publications output at the forefront.
Professorships
The Nolan School is committed to building a faculty of trained researchers and outstanding instructors who are regarded, by both the industry and academia, as the most distinguished in hospitality management. Since 2006, we have continued to build a faculty whose intellectual and pedagogical contributions will ensure the relevance and prominence of our academic program and industry outreach for decades to come.
In an effort to increase the current-use funding available to deans for faculty recruitment, the university initiated a Faculty Renewal Program. A gift of $500,000 (payable over five years) allows a donor to establish a faculty fellowship which will be matched by another $500,000 from the school for a total of a $1 million gift credit.
In recent years, the following faculty renewal gifts were received:
Bradley Stone '77 made a $500,000 gift to establish the Stone Family Faculty Fellowship, awarded to Matthew Clayton, associate professor of finance.
Susheel Torgalkar '99, managing principal at Westbrook Partners Real Estate, and his wife, Sohita Torgalkar, CALS '98, who is a physician, made a $500,000 gift.
Chuck Henry '74, MGA '76, president of Hotel Capital Advisers, and his wife, Deborah Buell, P '14 (A&S), a partner in Cleary Gottlieb, Steen, and Hamilton, made a gift in honor of Professor Robert M. Chase.
Rachel Etess Green '98, director, owner and partner relations at Loews Hotels, and her husband, Jason Green, owner of Lifton Green, made a $500,000 commitment to fund faculty renewal fellowships.
Stephen Weisz '72, President of the Marriott Vacation Club International, and his wife, Linda, parents of Scott Weisz '01 and Kristen Weisz '04, made a gift of $920,000 to endow the Weisz Professor of Practice.
Program Support
The Nolan School sponsors many programs that not only enhance the quality of a student's education but also strengthen the entire hospitality industry. Program support comes from current-use gifts that are utilized immediately, or through a program endowment. Examples of endowed programs include:
HEC
Hotel Ezra Cornell (HEC) is an annual, weekend-long educational conference hosted by the students of the Nolan School for leaders of the hospitality industry. Composed of educational seminars, leisure activities, and food-and-beverage events, the weekend strikes a thoughtful balance between education and entertainment. The purpose of the weekend is for students to practice the skills they have learned in the classroom and to showcase their talents to industry professionals.
HLDP
The Hotel Leadership Development Program (HLDP) is designed for ambitious students who are interested in hospitality operations as a career path. Students may apply to HLDP after having worked in any of the Statler Hotel operations departments for at least one semester. Upon acceptance, students embark on a self-directed path throughout departments in the Statler Hotel to gain skills, knowledge, practical experience, and real supervisory and managerial proficiency. Students in this program maintain a minimum GPA of 2.5, have met basic Nolan School course requirements, and have demonstrated outstanding job performance and positive attitude in their first job at the hotel.
NSMH
The National Society of Minorities in Hospitality (NSMH) is a student-run organization with more than forty collegiate chapters nationwide. The organization was co-founded in 1990 by four students at the Nolan School. The NSMH provides students with a support network of peers, both locally and nationwide, who focus on enhancing their academic and professional growth.
Baker Program in Real Estate
The Nolan School manages giving on behalf of the Baker Program in Real Estate. To make a gift online, select "other" and designate the Baker Program in Real Estate in the instructions area. To discuss giving opportunities to the Baker Program in Real Estate, please contact Meg Hardie Keilbach '88 at 607.255.9542 or mhb7@cornell.edu.
Facilities
To ensure that Statler Hall and the Robert J. and Jan M. Beck Center continue to serve as state-of-the-art facilities for teaching a world-class hospitality education, we constantly seek opportunities to renovate, restore, and upgrade our spaces for teaching and learning. Numerous current-use and endowed opportunities exist to support this important and ongoing work:
Faculty Offices
| Naming Opportunities | Individual Gift |
| --- | --- |
| Faculty offices | $100,000 each |
Marriott Student Learning Center
Thanks to a $3 million lead gift from the J. Willard and Alice S. Marriott Foundation, the school opened the Marriott Student Learning Center in fall 2012. The project transformed the Nestlé Library, the George B. Mallory '54 Student Lounge, and the World Atrium into a fully digitized information center with optimized study and meeting space. As technological innovations and developing curricula change the way students learn, the Marriott Student Learning Center will provide Hotelies with the equipment and space they need to succeed.
Marriott Student Learning Center floor plan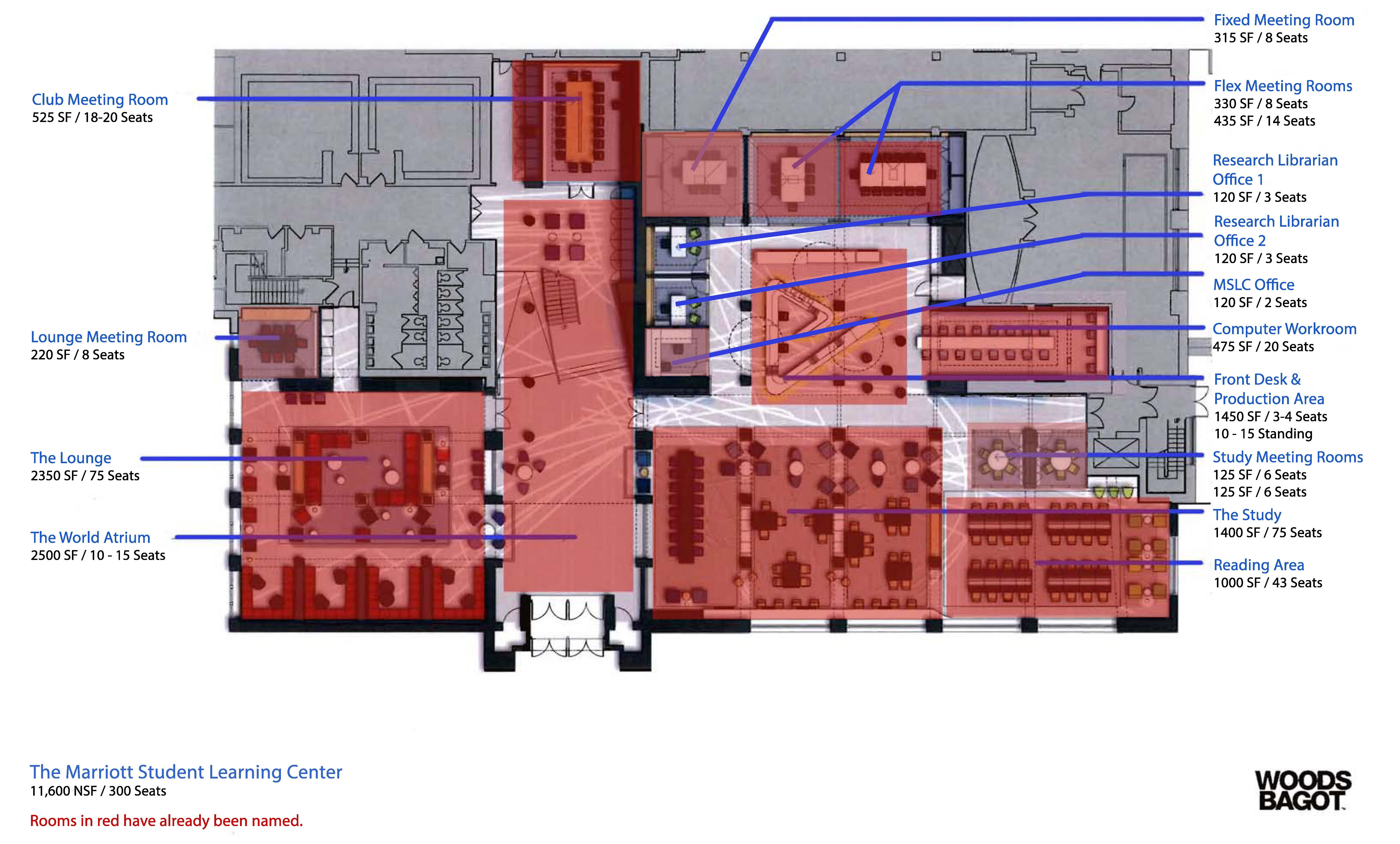 | Naming Opportunities | Individual Gift |
| --- | --- |
| One research librarian office | $50,000 |
Statler Hotel
The Statler Hotel has 153 newly renovated guest rooms, many with breathtaking views of Cornell University and the rolling countryside, in addition to abundant meeting space. The Statler Hotel is host to hundreds of conferences and special events each year. Conference facilities include an 87-seat amphitheater, seven breakout rooms, and a ballroom with seating for up to 300 guests. Gifts to the Statler Hotel are used to renovate existing space, and donors can name hotel rooms or suites.
| Naming Opportunities | Individual Gift |
| --- | --- |
| Guestroom floor | $3 million |
| Tower suite | $360,000 |
| Cornell suite | $300,000 |
| Guestroom | $200,000 |
| Princeton and Yale meeting rooms | $560,000 |
| Pennsylvania meeting room | $350,000 |
| Harvard meeting room | $280,000 |
| Dartmouth meeting room | $210,000 |
| Columbia meeting room | $210,000 |
| | |
Tower Renovation Project
| Naming Opportunities | Individual Gift |
| --- | --- |
| Cost to build, equip, and maintain tower | $10,000,000 |
| 4th-floor office suite | $750,000 |
| 4th-floor offices (3) | $50,000 each |
| 3rd-floor office suite | $750,000 |
| 3rd-floor offices (3) | $50,000 each |
| 2nd-floor office suite | $750,000 |
| 2nd-floor offices (3) | $50,000 each |
| 1st-floor office suite | $460,000 |
| 1st-floor office (92 sq ft) | $40,000 |
| 1st-floor office (184 sq ft) | $65,000 |