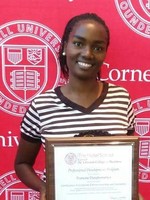 Francine Dusabemariya
Master Trainer
Rwanda Polytechnic, Rwanda TVET Trainer Institute (RTTI)
Rwanda
Francine Dusabemariya
1 Star

2 Stars

3 Stars

4 Stars

5 Stars
The PDP 2018 is the most important professional development program I have never attended.
It was very exciting, I learnt more through sharing experience and true stories with different businessmen and business women from worldwide. Through PDP 2018, I got friends from different corners of the world and I believe this will boost my career.
About career platform, I acquired huge competencies that will contribute to my career platform and to my institution as well as my country.
I thank Professor Neil Tarallo for his true business related stories, examples and experience, these inspire a great open mind and develop critical thinking, mind of analysis, thinking high and having high expectation.
I thank also Andrew Quagliata for his huge in behavior changing about "doing something for others and persuasive speaking" through the recognition of ones' social style.
I thank especially Nancy Weislogel, Jennifer (Macera) Mayo, Nickie Fredenburg and for your great hospitality, you are really kind person. I thank PDP organizers, Shara, Natalie for their daily emails.
I thank the government of Rwanda for its good governance which opens the worldwide doors to Rwandans. I thank the Rwanda Polytechnic (RP) for its effective collaboration with MasterCard Foundation and I thank MasterCard Foundation for its partnership.