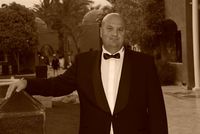 Erwin R. Popov
General Manager
United States
Chose Cornell for its reputation and impressive network
1 Star

2 Stars

3 Stars

4 Stars

5 Stars
Cornell is a career-maker, an eye opener and a unique global educational experience that turns ambition into real life opportunities. If you are driven and passionate about hospitality, and you want to be a leader in the field, then Cornell is the place for you. It has a great program, cultural mix of students, colleagues and alumni network which is really what you need from your school nowadays.
I chose Cornell University for its reputation and impressive network. I especially wanted to increase my knowledge in executive management and leadership. GMP suited me perfectly as it allowed me to gain the necessary knowledge for my professional and personal evolution. A truly unique experience which seems essential for a future leader within the industry. The Cornell spirit will be with me forever!
The biggest room in the world is the room for improvement. In this sense and in the spirit of hospitality, I sincere remain with distinguished regards from Erwin R. Popov.