Travel to Ithaca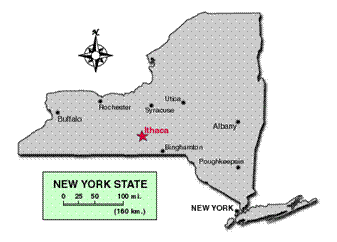 Cornell University is located in Ithaca, a small city in central New York State. It is approximately 250 miles (400 km) northwest of New York City, and 60 miles (100 km) south of Syracuse, New York.
For more information: maps, directions, and local information.
Travel by Air
As you will see, the most expedient way to arrive in Ithaca is through the Ithaca Tompkins Regional Airport. The Cornell campus is ten minutes away from the Ithaca Airport.
These airlines offer service to the Ithaca Airport:
Please note that class will end at 3:30 p.m. on the last day of each session and early departure is not permitted if you wish to receive a certificate of completion or a Certification.
If you cannot arrange a direct flight to or from Ithaca, you will find that the Hancock International Airport in Syracuse, New York, offers more airline options. Ithaca is about a 90-minute drive from Syracuse. Ground transportation to and from the Hancock Airport can be arranged through a local service, Ithaca Airline Limousine (phone 1.607.273.3030 or 1.800.273.9197). You must call for a reservation, based on their scheduled times, at least 48 hours in advance. The cost is $80/one-way, or $110/round-trip (subject to change). (You also have the option of a private reservation, at a time you choose, for a higher cost.)
As an alternative to that service, you may choose to take a taxi from Syracuse to Ithaca. The taxi service is located in the Hancock Airport terminal. There are no schedules or advance reservations required, and you can usually depart quickly. The cost is approximately $170/one-way. Another possible option is to rent a car at the airport and drive to Ithaca.
Travel by Bus, Car, and Train
Note: The information below is mostly specific to travel between New York City and Ithaca, however these options should also apply to other cities.
If you need to get from a New York City-area airport to one of the New York City stops listed below, you can take a taxi, bus or shuttle. One shuttle option is New York Airport Service.
By Bus
If you are arriving at a New York City-area airport and need to get to one of the New York City stops listed below, you can take a taxi or public bus, subway, or train. With luggage, taking a taxi is more convenient, and likely quicker, but a higher cost than public transportation. See options in the ground transportation section on the applicable airport page.
The following companies provide bus service between New York City and Ithaca (a 4.5-to-6-hour ride):
By Car
For directions, see driving directions to the Statler Hotel; the GPS address is: 130 Statler Drive, Ithaca, New York. (Hotel parking is US$12/night + tax, subject to change.) If you wish to rent a car, some of the companies that have local service outlets are:
By Train
Amtrak train service is also an option, although the nearest station to Ithaca is in Syracuse. Ithaca Airline Limousine can provide shuttle transportation from the Syracuse train station to Ithaca.
Entry/Visa Questions
You will need to determine the appropriate method of admission into the United States. Here are some general information websites for your reference:
The Visa Waiver Program enables nationals of certain countries to travel to the United States for tourism or business for stays of 90 days or less without obtaining a visa.
If a visa is required, we can send you a B-1 (Business Visitor) Visa Certification Letter that you can submit with an application to the U.S. Embassy/Consulate. It is used to support that you will be coming to the U.S. for a business purpose. You should confirm that the letter is sufficient with the Embassy/Consulate.
It is important to state that you will be a professional attending a business conference. You will not be an admitted student or earn academic credit, and therefore it should not be appropriate to apply for a student visa. We cannot provide you with an I-20 form, as that document is issued only to students admitted for full-time university study.
Also, if you plan to take a trip into Canada during your stay, it is your responsibility to determine whether you need a visa from the Canadian government and/or a re-entry visa to return to the U.S.
---
Contact Us
Cornell Executive Education
Email: exec_ed_hotel@cornell.edu
Phone: 607.255.4919
Fax: 607.277.0517
Cornell SC Johnson College of Business
209 Dryden Road, 4th Fl.
Ithaca, NY 14850 USA