Traveling to Ithaca
Cornell University is located in Ithaca, a small city in central New York State. It is approximately 250 miles (400 km) northwest of New York City.
Travel by Air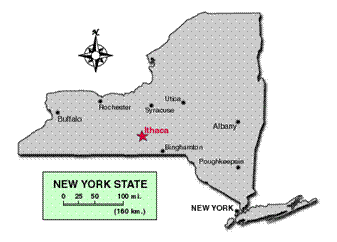 Our local airport is the Ithaca Tompkins Regional Airport, located four miles from the Cornell campus. (The Statler Hotel provides a shuttle.)
Currently, these airlines offer direct service at the Ithaca Airport:
American to/from: Philadelphia International Airport
and Charlotte-Douglas International Airport
Delta to/from: Detroit Metro International Airport
United to/from: Washington DC-Dulles International Airport
If you cannot arrange a flight into Ithaca, you will find that the Syracuse Hancock International Airport in Syracuse, New York, offers more options (including flights from three airports near New York City: LaGuardia, JF Kennedy, and Newark). Ithaca is 60 miles/100 km (90-minute drive) from Syracuse. Ground transportation can be arranged through a local service, Big D's Limousines (phone: 1.607.273.3030), which offers several scheduled trips each day.  You must call to make a reservation at least 24 hours, and up to 30 days, in advance. You may also arrange transportation to Ithaca through an area taxi or Uber/Lyft service, or by driving a rental car.
Travel by Bus, Car, or Train
By Bus
If you are arriving at a New York City-area airport and need to get to one of the New York City stops listed below, you can take a taxi or public bus, subway, or train. With luggage, taking a taxi is more convenient, and likely quicker, but entails a higher cost than public transportation. See options in the ground transportation section on the applicable airport page.
The following companies provide bus service between New York City and Ithaca (generally a 4.5-to-5-hour trip):
Cornell's Campus-to-Campus Express (phone 1.607.254.8747)
We recommend Cornell's executive bus, which offers direct service with a convenient curbside stop adjacent to the Statler Hotel, comfortable seating, wireless Internet, power outlets, reading lights, complimentary beverages, and snacks. Advance reservations needed; we suggest you book early. To make a reservation, go to the Campus-to-Campus Bus Service page and follow the "Book Now" link. After you have made your trip selections, you will be taken to a login page. Before you can finalize the reservation, you must create an account by selecting "Sign Up Here."
Please note, regarding the bus stop location options:
In New York City: There are three options in Manhattan's mid-town and upper east side.  The Cornell Club is in mid-town, and is the last stop before departing the city. To reach the Cornell Club via public transportation, Grand Central and Penn Stations are nearby, about 5-to-15-minute walks, or you can take a taxi directly.
In Ithaca: You should choose the Sage Hall arrival stop, which is located at the backside of the Statler Hotel (see map, Star "1"). To reach the hotel, you will walk up the sidewalk approximately 1/2 block north (the direction the bus is heading). At the end of the hotel building, immediately bear right, across the statue plaza, to the main entrance around front (see map, dotted line). If you want assistance from hotel staff at the bus stop, call +1.607.254.2500 when you reach the first stop on campus (Sage is the second stop), and ask them to meet you in ten minutes. (Note: For departures to New York City, the bus picks up at a different location: 1/2 block south on the other side of the street, adjacent to Sage Hall (see map, Star "2").)
ShortLine (phone: 1.845.610.2600 or 1.800.631.8405)
Greyhound (phone: 1.214-849.8100 or 1.800.231.2222)
Please note, regarding the bus stop locations:
In New York City: The Port Authority Bus Terminal is located near the center of Manhattan, one block west of Times Square. It occupies the blocks between Eighth and Ninth Avenues and 40th and 42nd Streets.
In Ithaca: Following are stop options that may be available (note: these are curbside stops, without facilities):
-West Campus or North Campus (Cornell): West Campus is the recommended choice, as it is closest to the Statler Hotel (1/2 mile).  You can request in advance for the hotel shuttle to pick you up at either location, or call +1.607.254.2500 when the bus is thirty minutes from arrival.  Let them know you are a GMP participant and provide your name, expected arrival time, and whether you will be at the West or North Campus stop.
-East Green St (Downtown):  This stop is approximately two miles from the Statler Hotel (shuttle not available).  To get to the hotel, you can request a taxi or Uber/Lyft service.
By Car
Get driving directions to the Statler Hotel; the GPS address is: 130 Statler Drive, Ithaca, New York. (Hotel parking is US$15/night + tax, subject to change.) If you wish to rent a car, some of the companies that have Ithaca service outlets are:
By Train
Amtrak train service could be an option, however there is no station in Ithaca. The nearest station is in Syracuse, 60 miles/100 km (90-minute drive) to Ithaca.  Shuttle transportation from the Syracuse train station to Ithaca can be arranged through a local service, Big D's Limousines (phone: 1.607.273.3030).  You may also arrange transportation to Ithaca through an area taxi or Uber/Lyft service, or by driving a rental car.
Entry/Visa Questions
You will need to determine the appropriate method of admission into the United States. Here are some general-information websites for your reference:
The Visa Waiver Program enables nationals of certain countries to travel to the United States for tourism or business for stays of 90 days or fewer without obtaining a visa.
If a visa is required, we can send you a B1 (Business Visitor) Visa Certification Letter that you can submit with an application to the U.S. Embassy/Consulate. It is used to support that you will be coming to the U.S. for a business purpose. You should confirm that the letter is sufficient with the embassy/consulate. It is important to state that you will be a professional attending a business conference held at Cornell. You will not be an admitted student or earn academic credit, and therefore it should not be appropriate to apply for a student visa. We cannot provide you with an I-20 form, as that document is issued only to students admitted for full-time university study.
Also, if you plan to take a trip into Canada during your stay, it is your responsibility to determine whether you need a visa from the Canadian government and/or a re-entry visa to return to the U.S.
Weather and Travel
In January, flight delays or cancellations due to winter weather in the eastern U.S. are not uncommon. With this in mind, you should plan ample overall travel time and time between connecting flights. Road travel can also be affected. In May, summer weather delays are less common.
SEE ITHACA WEATHER INFORMATION
---
Contact Us
Cornell Executive Education
Email: exec_ed_hotel@cornell.edu
Phone: +1 607.255.4919
Fax: +1 607.277.0517
Cornell SC Johnson College of Business
209 Dryden Road, 4th Fl.
Ithaca, NY 14850 USA