Vanessa Chu '17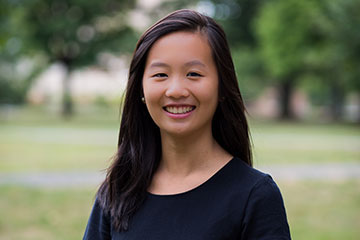 Hometown: Hong Kong
Minor: Real estate, creative writing
Why the School of Hotel Administration?
I love how the Hotel School has given me the flexibility to take a breadth and depth of classes offered in and outside the school. Also, Hotel School professors take a genuine interest in students—and that's particularly hard to find in college!
What has been your favorite class at Cornell?
I think my favorite class at Cornell so far is Professor Lawrence's Case Studies in Multi-Unit Restaurant Strategy class. I love how the class is discussion-based and the material is extremely relevant within the hospitality industry and also outside the hospitality industry.
What is your main Cornell extracurricular activity? Why is it important to you?
I'm currently President of Pandora Dance Troupe, a student-led dance troupe that performs twice a year. Having danced since I was four, I knew I wanted to continue to do so at college. Pandora has been a perfect non-Hotelie family for me and has allowed me to develop my leadership skills as well.