Stephanie Goldstein '17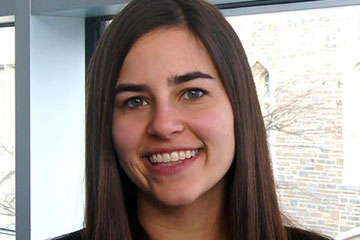 Hometown: Villanova, PA
Minor: Real estate
What does being a Hotelie mean to you?
Being a Hotelie means being a part of a tight-knit community of compassionate students, alumni, professors, and faculty. Every student—whether they go into operations, finance, or real estate—leaves with a well-rounded education in business and hospitality.
Which resources at the Hotel School [Cornell Peter and Stephanie Nolan School of Hotel Administration] and at Cornell have helped you the most?
The Office of Student Services has been a great resource for me throughout my time at Cornell. Whether I've needed help with course enrollment, career advice, or advice when I was going abroad, there has always been someone in the office to assist me.
One of my favorite parts of the Hotel School is the Dean's Distinguished Lecture Series (DDLS). I am now enrolled in DDLS for the fourth time. I love that they bring in speakers from all parts of the industry and that there is a good mix of alumni and industry leaders. My freshman year, I had the opportunity to hear Damian Mogavero from Avero speak. I really enjoyed his lecture, became very interested in Avero, and later interned there.