Sarah Monahan '19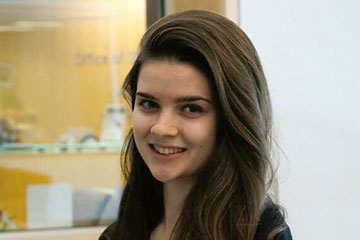 What does being a Hotelie mean to you?
Being a Hotelie is different from being a typical college student. Hotelies are hardworking yet collaborative students, entrepreneurs, and friends. To me, a student in the School of Hotel Administration [Cornell Peter and Stephanie Nolan School of Hotel Administration] is a student who has a strong desire for a career in the hospitality industry and will use opportunities and resources to achieve his or her goals.
If you were to offer advice to incoming first-year students, what would you say?
No matter who you are or where you are from, nothing can fully prepare you for the transition into college. Growing pains are entirely normal and you are neither the first nor the last to experience them. If you have already made of plan of what your college career is going to look like, throw it out. Don't be afraid to take risks, venture out of your comfort zone, and try something that you would never have done. You have been given such a wonderful opportunity to learn and grow as a student and individual—take advantage!
What has been your favorite class at Cornell?
Although I am a proud Hotelie, my favorite class at Cornell has been in the College of Agriculture and Life Sciences. Wines and Vines is a course offered to the entire university that teaches students about the process of growing grapes and making wine. This is one of those classes that truly is unique to Cornell and was something I could never imagine myself learning in high school.