Megan Trillo '16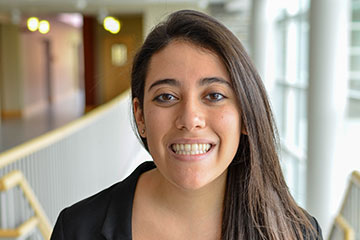 Hometown: Long Valley, NJ
Concentration: Beverage management
Why SHA [Cornell Peter and Stephanie Nolan School of Hotel Administation]?
SHA [Cornell Nolan School] is a place where you can pursue passions—like restaurant and beverage management—that are not offered at most schools. You are given the opportunity to explore the vast industry that is hospitality, and hone in on what you truly love to do.
What does being a Hotelie mean to you?
As a Hotelie, you are part of a tight-knit and extremely passionate group of diverse individuals. When you become a Hotelie, it is not just for your four years at Cornell, but for the rest of your life.
What is your main Cornell extracurricular activity? Why is it important to you?
The Hotel School's [Nolan School] Epicurean Society was very important to me while at Cornell. I was a member since the very beginning of my college career, and a member of the executive board since my second semester, freshman year. As co-president for my last two years, I was able to help make the Epicurean Society a more legitimate and valuable resource for students interested in a career within the food and beverage industry.