Macarena Moreno '16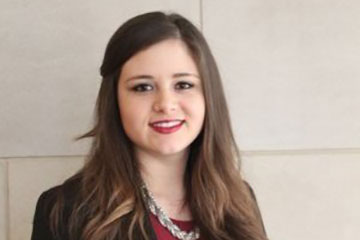 Hometown: Quito, Ecuador
Minor: Real estate
Concentration: Development
Why SHA [Cornell Peter and Stephanie Nolan School of Hotel Administration]?
SHA [Cornell Nolan School] is the best hotel school in the world! I was able to get a world-class education, network with industry leaders, and explore multiple fields within the hospitality industry.
What does being a Hotelie mean to you?
The School of Hotel Administration [Nolan School] has provided me with peers, friends, professors, and mentors who are willing to dedicate their life to serve others. Hotelies always introduce themselves and show genuine curiosity to learn more about each other. They are friendly, make me laugh in the most stressful times, and taught me that they will always have my back. Nothing is more important than the relationships I have built in this school. I am nothing but proud to be part of this passionate and devoted community whose members are always there for each other.
If you were to offer advice to incoming first-year students, what would you say?
1) Give your best work and be proud of the things you will accomplish at this school. Each piece of work you turn in is a presentation of yourself. 2) Embrace the Hotelie network! As an active volunteer in Hotel Ezra Cornell, president of the Cornell Real Estate Club, and member of Ye Hosts Honorary Society, I was able to meet other amazing Hotelies who are truly passionate about the hotel industry and who are willing to work together to achieve great things.
What is your main Cornell extracurricular activity? Why is it important to you?
Being president of the Real Estate Club at Cornell has been one of my most fulfilling activities at Cornell. As a club leader, I was able to organize and engage with other students who shared my same passion and interest in hospitality real estate.