Kayti Stanley '18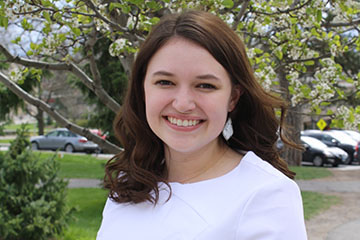 Hometown: Friendswood, TX
Minor: Information science
Concentration: Marketing
What does being a Hotelie mean to you?
To me, being a Hotelie means being home. Due to SHA's [the Cornell Peter and Stephanie Nolan School of Hotel Administration]expansive network, I know that no matter where I find myself in the world, there is always a Hotelie nearby. It gives me the utmost confidence and reassurance to know that this person—whether a stranger or classmate—will be not only someone I can connect with, but someone that I can go to in a time of need.
If you were to offer advice to incoming first-year students, what would you say?
Get to know your professors. They truly want you to succeed in every aspect of your college career, and are dedicated to helping you reach that success in any way that they can.
Which resources at Cornell and SHA [the Cornell Nolan School] have helped you the most?
The Office of Student Services and teaching assistants. I find myself visiting the OSS a minimum of once a week to discuss everything from career plans to class projects to the latest episode of Downton Abbey. The teaching assistants have also been a critical factor to my success, as they are dedicated and determined to help students master material.