Jennifer Marcott '18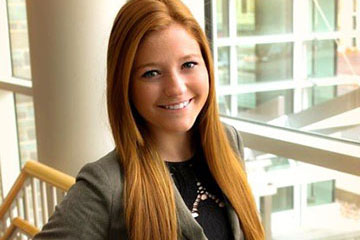 Jennifer Marcott '18
Hometown: Rancho Palos Verdes, CA
Concentration: Services marketing and operations management
What does being a Hotelie mean to you?
Being a Hotelie means there are no limits to what you can do. It means you are someone who understands the importance and the presence of hospitality everywhere and is excited to use that skill to do incredible things and make our world a more enjoyable place.
If you were to offer advice to incoming first-year students, what would you say?
Do not be scared of the size of Cornell and do not attempt to join everything that interests you. As a Hotelie, you have a much more centralized and close group of classmates. You may find your best friends or your future business partners.
And while you are busy meeting all these new people, make sure to get involved in activities on campus. Different clubs and organizations on campus can undoubtedly better both your Cornell and Hotelie experiences. However, trying to join everything you can right away can definitely throw an imbalance into your settling-in and your overall schedule.
What is your definition of diversity as it relates to your Cornell experience?
Through SHA [Cornell Peter and Stephanie Nolan School of Hotel Administration], I have met and become close with students from all over the world. I get to say that I am from Los Angeles, California and that some of my closest friends in SHA [Cornell Nolan School] are from Amsterdam, Toronto, Beijing, Thailand, Hong Kong, Milan, Venezuela, and Miami. Not a lot of people get to go to college and experience that. Diversity, as it relates to Cornell and SHA [Nolan School], is an added bonus on top of an already incredible college experience.