Gundeep Singh '17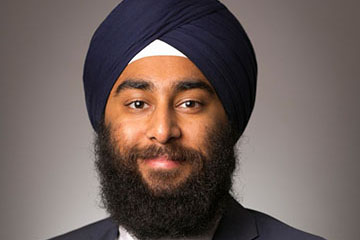 Hometown: Franklin Lakes, NJ
Minor: Real estate
Concentration: Law
What does being a Hotelie mean to you?
Being a Hotelie means being three steps ahead of the competition. It means anticipating needs and solving problems before they manifest themselves in an obvious way. From the very beginning, we're taught to analyze things from every possible angle, quantitative and qualitative.
What accomplishment/activity are you most proud of while at Cornell?
Being on the board of directors for Hotel Ezra Cornell is one of the hallmarks of my Cornell career. HEC is forever intertwined with the founding of the School of Hotel Administration [Cornell Peter and Stephanie Nolan School of Hotel Administration], and being entrusted with its legacy is something I will cherish forever. The chance to run a hundred-million-dollar facility for a weekend and create an innovative and educational conference for the world's top business leaders is incredible. I am proud to have been a steward of this great Cornellian tradition.
What is your definition of diversity as it relates to your Cornell experience?
Diversity of opportunity. Our motto is often distilled down to "… any person … any study." And that's the truth. Here at Cornell, you truly do have the opportunity to do anything your heart desires. I'm a Hotelie—minoring in real estate with a concentration in law—who's taking classes in computer science, architecture, political science, and geology. On the side, I dance for one of the country's most famous dance teams, devote time to Cornell's Sikh Student Association, and also put on an educational conference for Cornell's most successful alumni.