Grant Behnke '17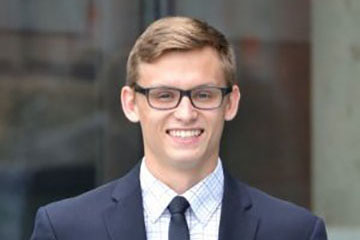 Hometown: Solon, OH
Minor: Real estate, Spanish, environmental science and sustainability
Concentration: Finance, accounting, and real estate
Why SHA [the Cornell Peter and Stephanie Nolan School of Hotel Administration]?
During their time at Statler Hall, students are exploring every corner of the highly dynamic hotel industry, and broader real estate and service industries. The juxtaposition of flexibility and specificity of the degree is special and has yet to be duplicated anywhere else in the world. The flexibility of the degree, combined with the school's network and continued support, allows students to stay connected to an industry they love while pursuing a career that closely matches their talents.
What are your plans post-Cornell?
My plans post-Cornell are currently divided in two. On one path, I am pursuing a "traditional" full-time job in either hospitality real estate, sustainable development, or impact investment. On another path, I am applying to graduate school programs in Europe where I would continue my research on sustainable tourism development.
If you were to offer advice to incoming first-year students, what would you say?
Relax, keep your mind open, find a mentor, create a plan, work hard but not too hard. When I arrived at SHA [Cornell Nolan School], there was a lot to wrap my head around. I could have saved myself one very trying semester if I had just relaxed about everything, asked people for advice, and completed first-year soul searching in more focused manner.