Fred Ho '16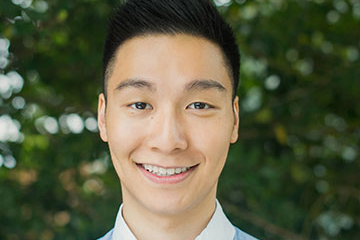 What does being a Hotelie mean to you?
Being a Hotelie means giving "a little more—a little better service." The Hotel School [Cornell Peter and Stephanie Nolan School of Hotel Administration] consistently challenges its students to make the world a better place through serving others.
If you were to offer advice to incoming transfer students, what would you say?
Whether you're coming in as a sophomore or a junior, make sure to reach out to fellow students! The friends you make from your transfer class will be great, but it's also nice to meet people who have been at the school since they were freshmen. A great way to meet current SHA [Cornell Nolan School] students is to get involved in HEC or in SHA [Nolan] clubs, so you can kill two birds with one stone.
What accomplishments are you most proud of at Cornell?
I'm very proud of having worked as a teaching assistant and communications consultant at SHA [Nolan]. Hotelies love helping other people out, especially when they're helping fellow Hotelies. Serving as a TA and consultant gave me the opportunity to give back to the SHA [Nolan] community while learning about myself as a teacher.
What resources at Cornell and at SHA [Nolan] have helped you the most?
Without a doubt, the single most important and helpful resource I had at SHA [Nolan] was the support of our professors. Thanks to small class sizes and professors' genuine interest in students' holistic development, I was able to find support through faculty in a way that I never had before transferring to Cornell. Hotel School [Nolan] professors always kept our best interest at hearts and volunteered their time generously outside of the classroom.