Brooke Gerstein '15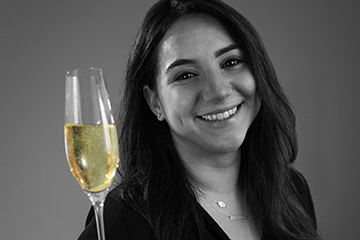 What does being a Hotelie mean to you?
Being a Hotelie is elevating experiences with excellent relationships. "Life is Service" has become a mantra for me, on and off "the floor"—it is that mentality that has had the greatest impact on my career, as well as in my personal life.
What internship has most impacted your career plans?
Empire Merchants, hands down. We're lucky enough to send one student as an intern each year, and having the opportunity to work with other Hotelies—as well as the most amazing wine and spirits suppliers and buyers throughout metro New York—definitely affirmed my career within the wine industry. The relationships I made that summer have been indispensable, and I'm lucky enough to continue working with my colleagues there at my current position.
What resources at Cornell have helped you the most?
The beverage center and the wine program in general. Whether it was seeking advice from my adviser, Cheryl Stanley, or working with producers in the finger lakes from a wine making or marketing perspective with Kathryn LaTour, the resources were immeasurable in discovering my passion.