Benjamin Pilosof '16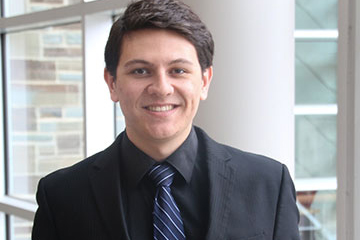 Hometown: West Hills, CA
Minor: Real estate
Concentration: Marketing
What does being a Hotelie mean to you?
Being a Hotelie means understanding your place in both the Hotel School [Cornell Peter and Stephanie Nolan School of Hotel Administration] and Cornell networks and becoming a productive member of those communities. A Hotelie recognizes the value of connection and advances the world of hospitality in both his/her personal and professional lives.
What accomplishments/activities are you most proud of from your time at Cornell?
With a strong passion for marketing and a love for media and entertainment, I worked at Warner Bros. Studios the summer before my senior year in television publicity, where I helped the team bring a record 18 shows down to San Diego Comic-Con International. I quickly realized that the fast-faced, ever-evolving world of media marketing was completely and totally for me.
What activity has most impacted your career plans?
I am most proud of my involvement with Hotel Ezra Cornell. Leading the communications team, I hoped to spread the message of HEC having evolved in recent years into an organization that provides students with the most well-rounded operational experience—one that dives into the marketing, IT, HR, program, and communication needs that go into an event of this nature.