Karoline Schwartz, MMH '17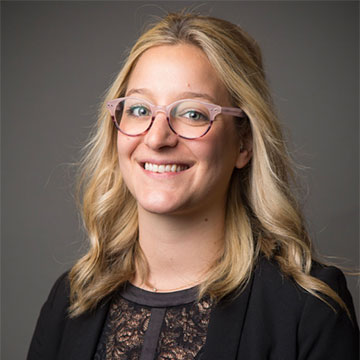 Karoline Schwartz
Concentration: Self-directed/entrepreneurship
Hometown: New York, NY
Concentration: Self-directed/entrepreneurship
Why did you choose the MMH?
I helped to open a new location for the restaurant corporation I worked for and fell in love with the operations, hiring, training, menu design, and other aspects of opening a new restaurant. I decided I wanted to eventually be an entrepreneur in the restaurant industry and would need a stronger knowledge of business and financial management. Other MBA programs seemed boring to me, but the MMH seemed exciting. It truly exceeded my expectations.
What work experience did you have before starting the MMH?
Before starting the MMH, I was the assistant general manager of a Japanese restaurant chain based in New York City.
What has been your favorite MMH experience?
I had to pick one, it would be the time every single one of my classmates collectively pulled me out of class to surprise me for my birthday in our MMH lounge. I've never felt so connected to a group of people in my life. The fact that everyone felt such a similar connection with me made me feel that this program was beyond an education, beyond increased opportunities to network—it was a connection with a group of people who share your passion for hospitality and will be excellent friends and assets to you for the rest of your life.
What has been your favorite class at Cornell?
Properties Development and Planning with Stephani Robson. She was knowledgeable, hardworking, and available, and she offered very interesting and enriching material and coursework. Our final group project was to propose our own hotel in a city of our choosing—it was probably the most interesting assignment I've ever completed. I'm looking forward to taking a few more classes with her before I graduate!