Nancy C. Weislogel, CHE '93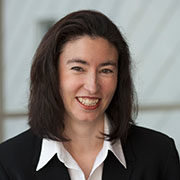 Executive Director, Executive Education: Open Enrollment Programs and Online Learning
Nancy Weislogel, CHE '93 is the executive director for Cornell Executive Education at the Cornell SC Johnson College of Business and is responsible for open-enrollment programs and online learning. Weislogel began her career at the Hotel School in 1997, working in the Office of Executive Education where she collaborated with Hotel School faculty to design and deliver classroom-based and online professional development programs. In 2014, she became the executive director of the Office of Online Learning and Collaborative Programs at the Hotel School and focused her efforts on building online learning for the school. In August 2017, executive education activities across the SC Johnson College were integrated and Weislogel was asked to expand her role to include the development of open-enrollment programs and online learning.
Weislogel sets the strategic direction and oversees development of open-enrollment programs and online learning, both of which are expanding areas for the college. In her role with online learning, Weislogel links the content expertise of Cornell faculty authors with the design and technical expertise of Cornell's online development partner, eCornell. Under her leadership, the Hotel School has developed over 60 online courses and 14 certificate programs for working professionals. New programs, courses, and product lines are in continual development.
Weislogel received her bachelor's degree in design and environmental analysis from Cornell University's College of Human Ecology in 1993. In 2015, she was awarded one of two Cornell University Management Excellence Awards for her commitment and dedication to empowering and motivating her team, and for upholding the values of Cornell University.
Nancy and her husband, Andy, have twin girls and enjoy living in the Fall Creek Neighborhood of Ithaca.