Meg Hardie Keilbach, CALS '88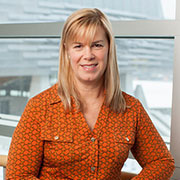 Associate Dean for Alumni Affairs and Development
Meg Keilbach, CALS '88 is the associate dean for alumni affairs and development at the School of Hotel Administration (SHA). She joined the school in 2002 as a newly minted public affairs officer and was the primary development officer for the school until 2011, when she assumed the role of director of alumni affairs and development.
Prior to that, Keilbach worked as a program officer in alumni regional programs, and as assistant director for the President's Council of Cornell Women. In her current role, she is responsible for the overall strategic engagement goals which include managing alumni activities, developing corporate partnerships, and working collaboratively with the Cornell Hotel Society and the Cornell Hotel Society Foundation.
Prior to returning to her alma mater, Meg worked in project management for Staples, Inc. in Massachusetts. She received her bachelor's degree in business management and marketing from Cornell University's College of Agriculture and Life Sciences in 1988.
Meg and her husband, Eric, have four children and live on the farm Meg's parents started in 1951.