Chiaki Tanuma, MPS '80, Emeritus Member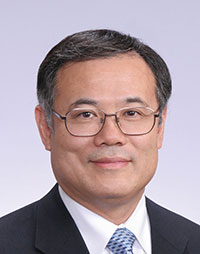 Chiaki Tanuma, MPS '80, Emeritus Member
President and CEO
Chiaki Tanuma, MPS '80 is president and CEO of Green House Group (GHG), encompassing 56 companies including those under license agreement such as Horwath Asia-Pacific, Japan, a hotel consulting company.
GHG operates hotels and restaurants and delicatessens in Japan as well as in overseas countries such as Korea, Taiwan, Thailand, Canada, Hong Kong, Singapore, and China. The major part of the company's business is contract foodservice for offices, factories, schools, hospitals, public-welfare institutions, and others. GHG sells food products, daily necessities, and food-facility equipment, and develops and provides a program of dietary healthcare information system service.
Tanuma is an international director for the National Restaurant Association (NRA), as well as executive councilor for the Tokyo Chamber of Commerce and Industry. He served as chairman of the Japan Foodservice Association, a leading association in the restaurant foodservice industry.