J. Peter Kline '69, Emeritus Member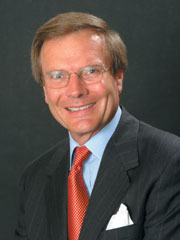 J. Peter Kline '69, Emeritus Member
Private Investor
Pete Kline '69 is a private investor based in Dallas, Texas, managing family investments in real estate, private equity, and publicly traded securities. His current activities follow multiple careers that encompassed public accounting/consulting, the hotel industry, and managing philanthropy for a leading children's hospital system.
Most recently, Kline served as president of the Children's Medical Center Foundation and as a member of the executive management team at Children's Medical Center in Dallas. He was recruited to lead an initiative to significantly broaden the philanthropic support for world-class pediatric medicine in Dallas. During his 3.5-year tenure at Children's, annual fundraising was increased from $14 million in 2009 to over $50 million in 2012.
Kline's primary career was in the hotel business. In 1981 he co-founded what became Bristol Hotels & Resorts, a publicly traded hotel owner-operator of full-service hotels. The company started with a single hotel in Dallas and became the world's largest owner of Holiday Inn and Crowne Plaza Hotels, with 130 hotels throughout North America. As CEO of Bristol Hotels & Resorts, Kline led the rapid expansion of the company, the sale and leaseback of the real estate, and ultimately the sale of the operating company to Bass PLC in 2000.
Prior to his career in the hotel business, Kline spent nine years with Laventhol & Horwath, an international public accounting and consulting firm that specialized in the hospitality industry. He was made a partner at the age of 30 and had responsibility for the management of the firm's consulting practice in the southwestern United States.
After Bristol Hotels & Resorts was sold in 2000, Kline became immersed in a variety of public-service activities in Dallas. For three years he was chairman of the board of the Dallas Convention & Visitors Bureau, leading the complete restructuring of the organization. Kline chaired several non-profits in Dallas and was the lead volunteer fundraiser for several annual campaigns. He acquired his major gift experience as co-chair of the parent division of a $50 million capital campaign for the Hockaday School, and he launched a capital campaign for the Dallas Children's Advocacy Center before joining Children's Medical Center.
Kline is a graduate of the School of Hotel Administration (now the Cornell Peter and Stephanie Nolan School of Hotel Administration) at Cornell University and also holds an MS from the Cornell Graduate School. He was a Certified Public Accountant in Pennsylvania and Texas before returning to the hotel industry.
Originally from Upstate New York, Kline has lived in Dallas for the past 37 years. He is married to Caren Whiteman Kline and has two daughters, Catherine and Christina.