Heather Jacobs '94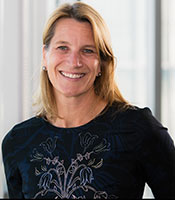 Heather Jacobs '94
Senior Vice President, People and Culture
Heather Jacobs is senior vice president, people and culture, for Four Seasons Hotels and Resorts. Jacobs's role is to ensure that the company continues to have a robust pipeline of talent to underwrite the company's reputation, success, and growth through the global talent-acquisition and talent-management practices.
Jacobs has been with Four Seasons for more than 23 years, having started as a management trainee in hotel operations. Over the course of her career, she has held numerous operational and HR leadership positions, including postings in Chicago, New York City, and Washington, D.C.
Since 2004, Jacobs has worked outside of North America, first in Geneva, Switzerland, and most recently in Dubai, U.A.E., where she oversaw the HR operations for more than 60 international properties.
Jacobs holds a BS in hotel management from Cornell University. She, her husband, and their son recently relocated to Toronto after having spent four years in Dubai.